Cerrowire launches new Raceway Fill Calculator App
Posted On: March 26, 2019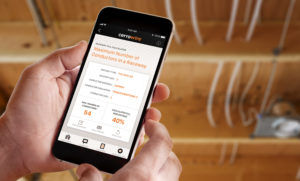 Hartselle, AL – Cerrowire, a leading U.S. manufacturer of building wire, has developed the Cerrowire Raceway Fill Calculator app to help electricians determine what size conduit to use for copper and aluminum building wire. All results provided are based on the National Electrical Code® (NEC).
Within the app, two easy-to-use calculators allow the user to determine results based on the information they need to know:  the maximum number of conductors that will fit in a type and size of raceway, or what size raceway is required for the types and sizes of conductors in the circuit. The Cerrowire app can be used to calculate raceway size or fill for EMT, PVC, RMC, and the like with insulated and bare copper and/or aluminum conductors.
"We are developing a new series of tools that put critical knowledge in the hands of our customers in real time. Our Raceway Fill Calculator app is simple to use and allows electricians to determine materials and sizes needed to meet NEC requirements while on the job site," stated Cerrowire Director of Codes & Standards Christel Hunter, CStd.
The free tool from Cerrowire is available in both the Apple App Store and on Google Play for smart phones and tablets. The first in a series of tools being developed, the Cerrowire Raceway Fill Calculator also is available as a web-based tool on Cerrowire.com.
WHERE TO BUY
Cerrowire markets through a number of quality retailers and manufacturer's representatives.