Stewart Smallwood Elected to Chamber Board
Posted On: April 9, 2020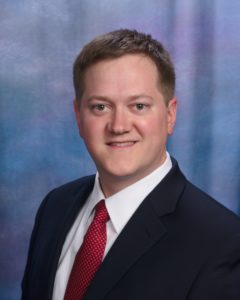 Hartselle, AL – Stewart Smallwood has been elected to the Hartselle Area Chamber of Commerce Board of Directors.
Smallwood is the president of Cerrowire, headquartered in Hartselle. He began his career in the electrical industry in 2004 at Gexpro (formerly GE Supply), and joined Cerrowire in 2012.
 Stewart received his B.S. in Finance at Clemson University in Clemson, SC. Aside from his university education, he has received training throughout his career from GE, Rexel and Cerrowire. The training ranges from CORE Leadership Principles at GE to Advanced Pricing Analytics at Marmon. He is currently a member of Electri International, an electrical contractor think tank. Stewart also has recently served on the Workforce & Education Committee of the Hartselle Area Chamber of Commerce and represents our Industrial and Manufacturing members.
"I want to be a part of an organization that has the vision to make Hartselle a better place. The HACC is uniquely qualified to be the voice of the economic community and push Hartselle to accomplish Missy's vision of being a town with great character that attracts people with good values and a passion for their community," Smallwood said. "I will bring fresh ideas and perspectives based on my experience of living and visiting many other communities. I have a passion for business and community and this is a great opportunity for me to merge the two together."
"As is true of any team, getting the right talent and perspectives on the board is absolutely fundamental to the board's success," Missy Evans, president and executive director of the Hartselle Area Chamber said. "That is why Stewart's partnership and leadership in this season of Hartselle's growth is strategic. I am thrilled to welcome him to the board and to have the opportunity to partner with Stewart and the entire board as we work toward our vision of making the Hartselle Area a better place to live, work and play."
First published in the Hartselle Enquirer, April 8, 2020.
WHERE TO BUY
Cerrowire markets through a number of quality retailers and manufacturer's representatives.